Happy New Year blessings and a bit o' sunshine to you in this first week of the year 2013!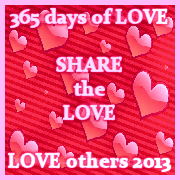 I am preparing to get back to writing about love this year and delighted to be doing so via the blog hop
SHARE the LOVE
, and yes, this is a blog hop I just an hour or so ago decided to introduce here on abitosunshine Love and Writing.
The idea came to me while updating an article of mine on Squidoo, so I switched gears and began blogging.
Share the Love on Valentine's Day
will get updated on another day!
Do you agree the world will be a better place if we all share the love? Good, then blog hop along with
SHARE the LOVE
!
Of course, getting this blog hop idea today puts me behind already! All is fine, though, as I will catch up before the year is through as a year is 365 days!
My first share is a treasure to give and to keep and I will let
LisaAuch
tell you all about
how to give the gift of love in a keepsake box
. Lisa's heart is obviously filled with love, much like the gift box she shares in her article.
I certainly plan to follow Lisa's lead and directions for creating a gift box filled with love to give to someone who is in need of a bit o' lovin'. How about you... Do you think Lisa is on to something here that can be used to share the love throughout the year?