I have been pondering the balancing act of life of late. In fact, I have come to the conclusion that quite often
LIFE gets in the way of LIVING
.
I have even left this phrase as a comment once or twice this past week on articles published by friends. Yesterday I wrote myself a note to write about the topic of
life getting in the way of living and loving
.
Well, today, I have reason to pretty much table that article; rather, table the time frame of the writing as well as the reason for writing on the topic. Life is a balancing act, as most of you well know. We must often weigh work and responsibility
against
love and laughter. Today, I choose to balance the two
alongside
one another because of an article written by a friend which tipped the scales right over!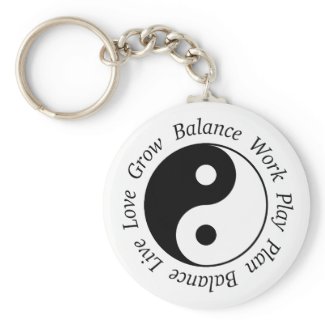 Balance Yin Yang Keychain
by
yarddawg
Design your own
personalized cheap keychains
at zazzle.com
Each Thursday, my friend Brenda publishes a blog post through her blog hop
Pondering With A Purpose
. Brenda issues a writing prompt and all are welcome to write their own blog post and link it up with hers through the blog hop.
The Pondering With a Purpose writing prompt for this week?
BALANCE
That word is linked directly to her post. Go ahead, click on it, read it! I did! And it touched my heart to tears when I did so.
On my list of ToDos for the day was to post my blog article for my own blog hop, SHARE the LOVE. When I weighed that responsibility with my work day it was plain to see that I could not in all good conscience write my blog post without love and laughter tipping the scales in Brenda's direction.
So today, I share the love with Ms. Brenda and I ask that you do same. Read her post. Introduce yourself. Leave her a comment to let her know she is loved or say something to give her good reason to smile.
And if you feel the need to commit a
balance act of love
for yourself or someone else--blog about it and link right up with
SHARE the LOVE
.