Today I did not have to look far to find a bit of love to share with you. A visit with
Sara Duggan
was emotional as well as inspirational. Sara's
Welcome 2013
post for New Year's Day centers on mother love.
While reading Sara's blog post and listening to the video song she shared in her article, I was reminded (through a teardrop or two) of how mothering is not always easy, for the mom nor for the child. Yet, I smiled, for as I read and listened memories of my mom and of my son flooded my mind. For awhile I allowed only the memory of good times as a mother and as a child to enter my stream of thought.
Thank you, Sara!
And yes, I will share my own creation of the day, inspired by Sara Duggan...

Did visiting with Sara inspire childhood or motherhood thoughts of love within you?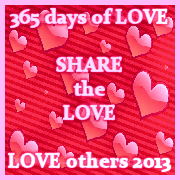 I invite you to share those loving thoughts here today. Better yet, why not publish a blog post of your own about love and link up with
SHARE the LOVE blog hop
!
Throughout 2013 I will be blogging each day on the topic of love. You can link up with me any (or every) day to share your own posts on the topic of love.