Happy New Year Blessings for 2013!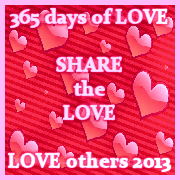 Since Love and Writing is the title and focus of this abitosunshine blog, I decided it would be a good thing to begin a blog hop of LOVE.
Hence...
SHARE the LOVE
THE RULES (if we must call them such)
365 Days of LOVE
- Publish a blog post of love every day throughout the year. If we miss a day, double up on another day.
SHARE the LOVE
- Share in our blog post and in any other online forum we wish. In my case, I will be creating a board at Pinterest and setting up a collection at RedGage to share in those places too, as well as the usual Twitter tweet and Facebook sharing of the blog posts.
LOVE Others 2013
- This blog hop is about sharing OTHERS, not ourselves. Naturally, you are welcome to work into your love share blog article a mention of something of your own that applies to the person you are loving each day.
Love Note
: In the sidebar of this blog you will find the code to copy and paste onto your own blog, if you like. It would, of course, be nice if you added the SHARE the LOVE badge to your blog posts for the hop, linking the badge to this page.