My first thought is that I simply must find more time for sharing the love on this blog! In my quest to share the love with my readers every day I fell behind in January and I am already a bit behind for February, gheesh! Oh well, I have plenty of time to catch up throughout the year.
That said, I invite you to blog about love this month and link your blog posts up with
Share the Love blog hop
!
February is the month of Love so let us share the love together.
Of course, I believe we should share the love with everyone, not just for the designated love day for Valentines. Hence, my sharing of many different aspects of love here for the Share the Love blog hop and I also share similar thoughts on my "
Share the Love on Valentine's Day
" article on Squidoo.
In keeping with food for thought, how about
creating a healthy dessert
for your loved ones this Valentine's Day? Or, any day, for that matter!
If healthy is not on your mind at the moment I am sure you will enjoy whipping up some easy to make and bake
blackberry cobbler
!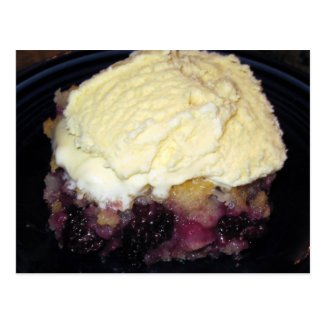 Blackberry Cobbler Recipe Card Postcards
by
Sylvestermouse
Try
post card printing
using zazzle
Do you have a favorite recipe?
How about a recipe for love?
Perhaps, a recipe reminder of a loved one...?
...such as
my mom's peach pies
.
Blog about your loved recipes and link up with Share the Love!