Thank you for the
Pondering With A Purpose
blog hop and this week's blog post topic, Brenda. Moreso, I thank you for your friendship and the occasional ray o' sunshine you send my way.
This week's Ponder:
"It wasn't that long ago that there was no such thing as an internet -- and there was no such thing as a blog.... how do you think your life would be different now if you didn't have your blog?"
Don't get me wrong here, but my life would not be much different without my blog. (Rather, all 4 of my blogs.)
My main objective has always been to spread a bit o' sunshine into the lives of others. I did such for years online, long before I began blogging. I did same for decades, offline, long before I began doing so online.
Still, I enjoy the fact that the internet gifted me with another dimension of sharing sol across the miles. I certainly enjoy the fact that I have crossed paths with many new visitors to my blogs. Too, I enjoy the fact that many of my friends from other web groups and forums have followed me to my blogs in search of another ray o' sunshine to warm the spirit.
All of these opportunities warm my spirit as well, beaming a bit o' sunshine right back at me.
To each of you I send...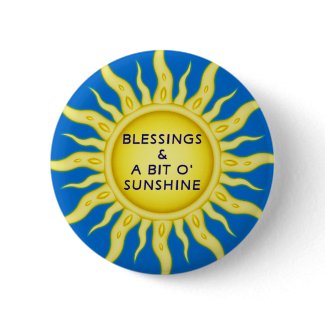 Sunshine Blessings Button
by
abitosunshine
Learn
how to make money as an artist online
at Zazzle.