of Vices and Values
by Ruth Cox
Upon my shoulder sits a wee dark devil in disguise whose whisperings in my left ear often cause me not to hear the voice of the light dwelling inside of me. Yea, though I wander in the valley of this evil one's vices, I rise to claim victory when responding to the sol of my soul burning the lobe of my right ear. I hear; and, I shall live well under the guidance of sol's values from now on and forevermore.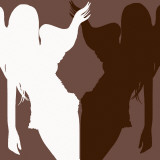 Angel and Devil
This poetic prose is written in response to a prompt offered up by Brenda in her weekly blog hop Pondering with a Purpose. This week's prompt:
VALUES
Hop right along with us this week
.
Share your thoughts on Values.